ESOP
ESOP is an organization that represents Portuguese companies that are dedicated to the development of software and which provide services based on Open Source technologies. We integrate a set of reference companies with proven experience in national and international projects.
Activities
Eventos Open Source
Eventos Externos 2022
News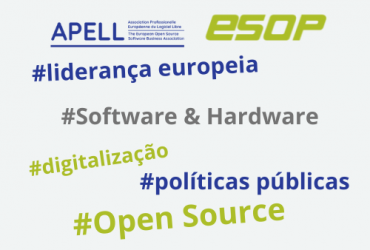 More proactive promotion of and investment in Open Source Software (OSS) at the level of the European Union and national governments would not only boost economic growth in Europe. It would also stimulate innovation, facilitate the emergence of a successful European information technology industry rooted in a wide ecosystem of Open Source companies and creators of all sizes and create jobs in the software sector and increase Europe's ability to determine and shape its own digital future. These were the clear conclusions of a recent study published by the European Commission.
Being an ESOP member benefits from several advantages
International Institutional Associates

Contacts
address
Address
Rua Soeiro Pereira Gomes,
Lote 1 – 4ºB
1600-196, Lisboa