ESOP distinguishes IGFEJ with 'Prémio Abertura' Award for 2nd consecutive year
ESOP distinguishes IGFEJ with 'Prémio Abertura' Award for 2nd consecutive year
2019- 10- 07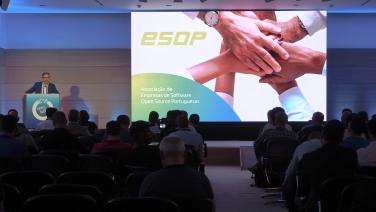 ESOP presented on 4 October 2019 the Prémio Abertura Award 2019, an annual award that aims to distinguish the entities that contribute to the promotion of Open Source software and Open Technologies in Portugal.
The Award was presented at Open Source Lisbon 2019 - an event that promotes sharing of experiences, of success stories and of innovative applications using Open Source technologies - at the Centro Cultural de Belém. The award was presented by ESOP Vice-President Paulo Ribeiro, which announced the 2019 Prémio Abertura Award Winner and Honorable Mentions.
The winner of 2019 Prémio Abertura Award was for the second consecutive year the Institute of Financial Management and Justice Equipment (IGFEJ), with the Portal for Public Consultation of Judicial Proceedings, also knows as "Os Meus Processos". This portal, developed by CAIXA MÁGICA SOFTWARE under the coordination of IGFEJ, is based on Open Source technologies (Java, Apache, Tomcat and Web Services REST) and allows public consultation of legal proceedings without costs and securely, through the authentication of applicants using AMA authentication platform (Citizen Card or Digital Mobile Key). This is a measure that aims to increase the transparency of justice in Portugal, allowing citizens not only to know the state of their proceedings (when this information is not restricted for some reason), but also to consult the various procedural documents that are part of the process.
Were also distinguish with Honorable Mentions the Instituto dos Registos e do Notariado (IRN) for the project "Connecting Portuguese SIRCOM to BRIS" and Direção-Geral de Recursos da Defesa Nacional for the Military Recruitment Portal.
The "Connecting Portuguese SIRCOM to BRIS" (Business Registers Interconnection System) project seeks to establish the interoperability of Portuguese business registration services (SIRCOM) with the European Union business registration system (BRIS). Using Open Source Access Point Technologies for e-Delivery and Java Spring Boot (based on Jhipster), LINKARE TI in partnership with IGFEJ and under the coordination of IRN enables to European citizens search and consult public information about companies through a central service accessible through the European Justice Portal; to IRN enables regularly and securely update public business information at the European Central Portal of Justice or request access to other information about a particular company; and to BRIS, enables to receive and/or to send relative automatic requests, between Member States, such as the creation/extintion of companies and their repercussions on their branches in the European area.
The Military Recruitment Portal centralize in a single space all information related to the professions of the three branches of the Portuguese armed forces, enabling an exploratory navigation according to the profile of the young candidate. To the Portuguese Ministry of National Defense gives the ability to audit all portal code as is based on Open Source Tecnologie - Drupal CMS. Regarding accessibility this portal developed by JAVALI, was delivered in compliance with AAA level (maximum level). In addition, as a measure of Simplex + 2018, it contributes to the simplification of public administration services.